Latest 10 Responses

01/28/2022: [Sta 2 Fire]00:00CT: INJ PER/FALL-BLS BLS 1648 SAINT PAUL ST BOX:0206 DUE:M29,U2 22001827 00:03
01/27/2022: [Sta 2 Fire]10:51CT: VEHICLE COLLISION BLS 934 S MAIN ST, ELINE FUNERAL HOME BOX:0217 DUE:M29,E21 22001794 10:53
01/27/2022: [Sta 2 Fire]05:47CT: MUTUAL AID ALARM BC, 85-22 / CO ALARM / 4808 MT CARMEL RD / WEST BOX:BC00 DUE:E21 22001782 05:49
01/26/2022: [Sta 2 Fire]11:26CT: VC RESCUE BLS MANCHESTER RD / SNYDERSBURG RD BOX:0423 DUE:M37,E43,RS4,BC1,MSP,M49,E21,E32 22001743 11:30
01/25/2022: [Sta 2 Fire]18:10CT: CO W/SICK PERSON-BLS BLS 2439 FAIRMOUNT RD, ROCKBROOK TP OUN TRAILER 22 BOX:0215 DUE:M29,E21 22001710 18:14
01/25/2022: [Sta 2 Fire]13:43CT: INJ PER/FALL-BLS BLS 2311 HAMPSTEAD MEXICO RD, MOORES GUEST HOME BOX:0212 DUE:M48,FR2 22001695 13:44
01/25/2022: [Sta 2 Fire]13:19CT: UNCONSCIOUS PERSON ALS 4005 SHILOH AV, RIGHT SIDE BOX:0218 DUE:M29,U2 22001692 13:19
01/25/2022: [Sta 2 Fire]10:37CT: PATIENT ASSIST BLS 3785 CASTLE DR BOX:0203 DUE:M29,U2 22001683 10:39
01/24/2022: [Sta 2 Fire]15:07CT: INJ PERSON-ALS ALS 911 EMORY CHURCH RD BOX:0213 DUE:BM855,BU857,U2 22001639 15:34
01/24/2022: [Sta 2 Fire]10:20CT: PATIENT ASSIST BLS 4424 BLACK ROCK RD, RIDGELY HOUSE LEASING OFFICE BOX:0222 DUE:BM855,U2 22001625 10:23
Mission Statement
The Hampstead Volunteer Fire Engine & Hose Company No. 1 is dedicated to protecting and preserving the lives, property, and environment of the citizens and visitors of the communities to which we serve. We will achieve this by providing the highest levels of fire suppression, rescue services, and emergency medical care through continual training, public education, and emergency response.

Now Hiring
Part Time EVDO / BLS Providers

New Challenge Coin for Sale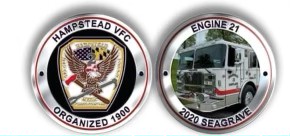 TRUCK 2 RESPONDS TO WESTMINSTER FOR EARLY MORNING FIRE

Chief Troy Hipsley, January 14

In the early morning hours of 01/14/2022 Truck 2 was alerted for the reported building fire. First arriving units were met with heavy fire from the second floor of a 2.5 story end of the group townhome. An aggressive attacked by the first due companies knocked the bulk of the fire down and prevented the fire from spreading to other adjoining homes. Truck 2 responded with 4 volunteers and Chief 2 responded ... (Full Story & Photos)


PASSING OF PAST PRESIDENT RAYMOND SMITH

Chief Troy Hipsley, December 20

The Hampstead Volunteer Fire Department regretfully announces the passing of Life Member and Past President Raymond "Smitty" Smith.

Mr. Smith served as the President from 1962- 1963. He was instrumental in raising money for the Fire Co. through heading the ambulance solicitation drive for over 25 years.

The family will receive visitors on Wednesday, December 22, from 11 am – 1 pm at the ECKHARDT ... (Full Story & Photos)

HOUSE FIRE IN LINEBORO

Chief Troy Hipsley, December 16

In the early morning hours of 12/16/21 Hampstead and other Battalion 1 companies were alerted for a house fire in Lineboro. Units arrived with fire showing from the attic of a 2.5 story farmhouse. T-2 responded with 4 members and ET-24 with 3 members Units operated on scene for approximately 4 hours. Thanks to Gamber & Community Fire Company and New Windsor Fire and Hose Company #1 for protecting ... (Full Story & Photos)

SANTA IS COMING TO TOWN

Chief Troy Hipsley, November 20

On December 14th through December 18th 6pm-9pm, Santa will be coming on the fire truck to Hampstead. The general routes are as follows.
Night #1- 12/14/21-Santa will be coming to the areas and neighborhoods of Wellesley Ct, Shiloh Rd, Broadbeck, Northbrook, Snydersburg, Jamar (Box 2-4, 2-5, 2-21, 2-12, 2-24)

Night #2- 12/15/21-Santa will be coming to the areas and streets of N. Carroll, Brittany, ... (Full Story & Photos)

SILVER SPRING TROPHY AWARDED TO ASHLEY PAULSEN

Member Sherry Ruby, June 24

The officers and members of the Hampstead Volunteer Fire Company would like to congratulate Ashley for being awarded the Silver Spring Trophy. The award was established in 1981 by the Silver Spring Volunteer Fire Department and accepted by the Maryland State Firemen's Association (MSFA) Executive Committee. This award is presented each year at the MSFA convention to an individual who does the most ... (Full Story & Photos)

HVFC ANNUAL CARNIVAL PARADE UPDATE

Fire Lieutenant JJ Lynott, June 23

The Board of Managers met with the Hampstead Chief of Police to explore potential routes for the annual parade. After much discussion it became apparent that weight restrictions on Panther Drive and State Highway Administration restrictions on the use of route 482, will prevent us from having a parade this year.

We are very excited about the quality of rides, food, and entertainment we have lined ... (Full Story)





HVFC ANNOUNCES NEW FIRE STATION & EVENT CENTER CAPITAL CAMPAIGN

Fire Lieutenant JJ Lynott, June 07

Hampstead Volunteer Fire Department is a 501 (C) 3 non-profit organization serving the Carroll County region in Maryland. We are currently requesting funds to support the construction of our new fire station in order to better serve the residents, businesses, and visitors to our area.

The Fire Department formed in 1900. After a carnival, the community decided to purchase a Hook & Ladder firetruck. ... (Full Story & Photos)

We are a 501(c)3 organization


Your feedback is important to us! Feel free to sign the guestbook.
All photographs are the property of the HVFC unless otherwise stated.