Latest 10 Responses

12/03/2021: [Sta 2 Fire]19:39CT: SERVICE CALL 3830 NORMANDY DR, PARK PLACE CONDOS CONDO 1C AND 2B BOX:0218 DUE:E21 21021405 19:43
12/03/2021: [Sta 2 Fire]18:04CT: GAS LEAK IN COMMERCIAL STRUC 3830 NORMANDY DR, PARK PLACE CONDOS 1ST FLOOR BOX:0218 DUE:E21,ET44,T2 21021395 18:05
12/03/2021: [Sta 2 Fire]15:40CT: VC INV MOTORCYCLE BLS LOWER BECKLEYSVILLE RD / DOGWOOD DR BOX:0208 DUE:M48,T2,CF2,E21,E43 21021384 15:53
12/03/2021: [Sta 2 Fire]15:40CT: VC INV MOTORCYCLE BLS LOWER BECKLEYSVILLE RD / DOGWOOD DR BOX:0208 DUE:M48,T2 21021384 15:42
12/03/2021: [Sta 2 Fire]15:40CT: VC SERIOUS BLS LOWER BECKLEYSVILLE RD / DOGWOOD DR BOX:0208 DUE:M48,E21 21021384 15:42
12/03/2021: [Sta 2 Fire]10:56CT: FIRE INVOL EXPOSURES 900 S MAIN ST, NEONETICS BOX:0217 DUE:E21,BE852,RS9 21021354 10:59
12/02/2021: [Sta 2 Fire]05:02CT: VEHICLE COLLISION BLS WHETSTONE CT / SPRINGBOX LN BOX:0217 DUE:M28,E21 21021270 05:04
12/01/2021: [Sta 2 Fire]22:21CT: TRANSFER 1745 BALTIMORE BLVD, STA 9 BOX:0911 DUE:E21 21021258 22:22
11/30/2021: [Sta 2 Fire]14:16CT: VEHICLE COLLISION BLS 1520 EMORY CHURCH RD BOX:0213 DUE:BM855,BE852,E21 21021147 14:19
11/30/2021: [Sta 2 Fire]08:35CT: SICK PERSON-BLS BLS 1021 HIGHFIELD DR BOX:0218 DUE:A48,FR2 21021116 08:38
Mission Statement
The Hampstead Volunteer Fire Engine & Hose Company No. 1 is dedicated to protecting and preserving the lives, property, and environment of the citizens and visitors of the communities to which we serve. We will achieve this by providing the highest levels of fire suppression, rescue services, and emergency medical care through continual training, public education, and emergency response.

Now Hiring
Part Time ALS Providers
Part Time EVDO / BLS Providers

New Challenge Coin for Sale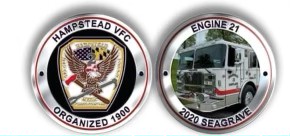 SANTA IS COMING TO TOWN

Chief Troy Hipsley, November 20

On December 14th through December 18th 6pm-9pm, Santa will be coming on the fire truck to Hampstead. The general routes are as follows.
Night #1- 12/14/21-Santa will be coming to the areas and neighborhoods of Wellesley Ct, Shiloh Rd, Broadbeck, Northbrook, Snydersburg, Jamar (Box 2-4, 2-5, 2-21, 2-12, 2-24)

Night #2- 12/15/21-Santa will be coming to the areas and streets of N. Carroll, Brittany, ... (Full Story & Photos)

SILVER SPRING TROPHY AWARDED TO ASHLEY PAULSEN

Member Sherry Ruby, June 24

The officers and members of the Hampstead Volunteer Fire Company would like to congratulate Ashley for being awarded the Silver Spring Trophy. The award was established in 1981 by the Silver Spring Volunteer Fire Department and accepted by the Maryland State Firemen's Association (MSFA) Executive Committee. This award is presented each year at the MSFA convention to an individual who does the most ... (Full Story & Photos)

HVFC ANNUAL CARNIVAL PARADE UPDATE

Fire Lieutenant JJ Lynott, June 23

The Board of Managers met with the Hampstead Chief of Police to explore potential routes for the annual parade. After much discussion it became apparent that weight restrictions on Panther Drive and State Highway Administration restrictions on the use of route 482, will prevent us from having a parade this year.

We are very excited about the quality of rides, food, and entertainment we have lined ... (Full Story)





HVFC ANNOUNCES NEW FIRE STATION & EVENT CENTER CAPITAL CAMPAIGN

Fire Lieutenant JJ Lynott, June 07

Hampstead Volunteer Fire Department is a 501 (C) 3 non-profit organization serving the Carroll County region in Maryland. We are currently requesting funds to support the construction of our new fire station in order to better serve the residents, businesses, and visitors to our area.

The Fire Department formed in 1900. After a carnival, the community decided to purchase a Hook & Ladder firetruck. ... (Full Story & Photos)

2021 VIRTUAL SPORTSMANS DRAWING WINNERS

Firefighter/EMT Richard Zaykoski, May 28

Congratulations to the winners of the 2021 Virtual Sportsman's Drawing.

350 Anderson/BLW - Custom Built AR15 - #287 Andrew Carroll
349 Savage Axis 6.5 CR - #284 Rob Leaf
348 Remington 700 ADL .243 - #120 Brian Crumbie
330 $50.00 - #315 John Carver
315 Winchester SXP 12 GA Trap - #315 Matt Eller
300 $50.00 - #112 Tyler Seipp
285 CVA Accura 50CAL V2 INLINE ... (Full Story & Photos)

ET24 RESPONDED TO A BUILDING FIRE 9-06 BOX

Firefighter Bryan Emery, April 27

On April 27 2021 at 0400 our ET24 was alerted to assist Reese Volunteer Fire Company on a building fire. On arrival ET24 crew was sent to division 1 to assist with fire attack then later moved to division 2 and 3. Shortly after gaining access to division 3 command EVAC the structure. We assisted crews with defensive operations and over haul before being placed in service by command. ... (Full Story & Photos)

CASH RAFFLE WINNING NUMBERS

Firefighter/EMT Richard Zaykoski, April 26

The winning numbers from Hampstead VFC's Cash Raffle held on 4/17/2021 are shown in both the image and the attached .pdf file.
Check MD lottery pick 4 for the $5,000.00 winning number.... (Full Story & Photos)

We are a 501(c)3 organization


Your feedback is important to us! Feel free to sign the guestbook.
All photographs are the property of the HVFC unless otherwise stated.