2019 Responses
Fire
EMS
Jan
74
124
Feb
68
103
Mar
65
123
Apr
61
120
May
60
125
Jun
66
128
Jul
73
139
Aug
61
125
Sep
Oct
Nov
Dec
Total
528
987
2018 Responses
Fire
EMS
Jan
92
139
Feb
65
115
Mar
78
137
Apr
80
142
May
86
158
Jun
67
144
Jul
70
131
Aug
56
110
Sep
55
104
Oct
53
110
Nov
71
108
Dec
79
139
Total
852
1537
2017 Responses
Fire
EMS
Jan
58
103
Feb
66
110
Mar
74
124
Apr
64
141
May
54
120
Jun
47
105
Jul
81
129
Aug
61
122
Sep
50
115
Oct
67
136
Nov
84
122
Dec
86
127
Total
792
1454
2016 Responses
Fire
EMS
Jan
82
132
Feb
53
105
Mar
55
87
Apr
52
115
May
57
122
Jun
56
107
Jul
54
123
Aug
53
128
Sep
42
109
Oct
83
126
Nov
72
117
Dec
60
126
Total
719
1397
2015 Responses
Fire
EMS
Jan
98
148
Feb
80
100
Mar
71
125
Apr
58
106
May
58
120
Jun
68
111
Jul
66
121
Aug
61
114
Sep
61
120
Oct
72
125
Nov
62
110
Dec
57
110
Total
812
1410
Past Responses
Fire
EMS
2014
752
1288
2013
608
1251
2012
619
1366
2011
627
1250
2010
617
1296
2009
636
1169
2008
695
1192
2007
775
1175
2006
581
1084
Web Counters
Website Visitors
Since
January 1, 2019

Visitors Today
Sep 21, 2019

Latest 10 Responses

09/21/2019: [Sta 2 Fire]20:13CT: PATIENT ASSIST 4418 BLACK ROCK RD, UNIT 4 BOX:0222 DUE:M29,E23 19015543 20:15
09/21/2019: [Sta 2 Fire]16:15CT: TROUBLE BREATHING 4506 WILLOW VIEW ST BOX:0215 DUE:M48,FR2,M29,U2 19015529 16:26
09/21/2019: [Sta 2 Fire]16:15CT: TROUBLE BREATHING 4506 WILLOW VIEW ST BOX:0215 DUE:M48,FR2 19015529 16:16
09/20/2019: [Sta 2 Fire]12:17CT: SICK PERSON NON-EMER 1411 N MAIN ST APT 3C, FAIRMOUNT APTS BOX:0208 DUE:BM855,FR2 19015456 12:19
09/20/2019: [Sta 2 Fire]11:18CT: UNCONSCIOUS PERSON 1027 BRODBECK RD, SHILOH POTTERY BOX:0221 DUE:M49,U2,U4 19015451 11:20
09/20/2019: [Sta 2 Fire]07:14CT: ASTHMA ATTACK-ALS 935 BOXWOOD DR BOX:0217 DUE:BM855,FR2 19015428 07:17
09/19/2019: [Sta 2 Fire]18:12CT: CARDIAC PATIENT-ALS 4524 FOXTAIL RD BOX:0215 DUE:M49,FR2 19015412 18:14
09/18/2019: [Sta 2 Fire]21:25CT: SERVICE CALL 1222 N MAIN ST, APT 3 BOX:0208 DUE:E23 19015372 21:26
09/18/2019: [Sta 2 Fire]19:50CT: SICK PERSON-BLS 2119 MOONLIGHT DR BOX:0215 DUE:A48,FR2 19015362 19:52
09/18/2019: [Sta 2 Fire]16:38CT: SICK PERSON-BLS 4545 NORTH WOODS TRL BOX:0217 DUE:BM415,FR2,M139 19015347 16:40
Mission Statement
The Hampstead Volunteer Fire Engine & Hose Company No. 1 is dedicated to protecting and preserving the lives, property, and environment of the citizens and visitors of the communities to which we serve. We will achieve this by providing the highest levels of fire suppression, rescue services, and emergency medical care through continual training, public education, and emergency response.


We are a 501(c)3 organization

Fall Fest Cancelled
We regret to announce that we will not be hosting fall fest this year due to scheduling conflicts. We appologize for the inconvience and confusion.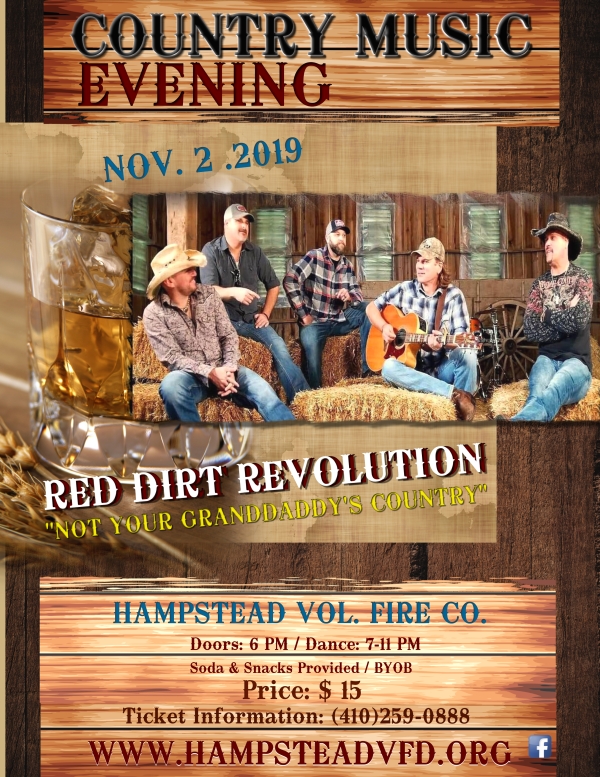 2019 PARADE WINNERS

Firefighter/EMT Isaac Yohn, August 15

The 2019 parade winners are as follows.

Fire company making the best appearance - Upperco
Fire company making the second best appearance - Lineboro
Best appearing pumper (in county) - New Windsor
Best appearing pumper (out of county) - Cockeysville
Best appearing aerial apparatus - John Purkey 1980 Mack
Best appearing ambulance - Upperco
Oldest motorized apparatus (in service) - Manchester Engine/Tanker ... (Full Story & Photos)



Photo Credit Hampstead PD

CAR INTO HOUSE

President Richard Zaykoski, August 03

Around 6:30 pm today, Truck 2 and Medic 29 responded to a vehicle collision involving a car into a house in the 3800 block of Shiloh Avenue. No one in the car or the house was injured.... (Full Story & Photos)

VEHICLE COLLISION WITH RESCUE IN MANCHESTER

Fire Captain J.J. Lynott, July 22

Just after 11:00 a.m this morning Truck 2, Utility 2 and Captain 2 responded to the 2500 block of Manchester Rd. to assist Manchester Volunteer Fire Department with a vehicle collision with rescue.

One subject was flown via Maryland State Police Aviation, and one subject was transported to a local area hospital.... (Full Story & Photos)

OPEN-AIR BURN BAN

President Richard Zaykoski, June 22

The open-air burn ban is in effect. Maryland regulations (COMAR 26.11.07.03B) ban open fires from June 1st through August 31st each year. The burn ban includes Baltimore City and the counties of Anne Arundel, Baltimore, Calvert, Carroll, Cecil, Charles, Frederick, Harford, Howard, Montgomery, and Prince George's. The annual ban, which first went into effect in June of 1995, is designed to reduce ... (Full Story & Photos)

VEHICLE COLLSION REQUIRES DOOR POPS

President Richard Zaykoski, June 18

Shortly before 4 pm, Station 2 and Rescue Squad 4 were dispatched to the intersection of Brodbeck and Hampstead-Mexico Roads for a vehicle collision with rescue. The doors on each of the two vehicles involved had to be forced open. Three people were removed from the vehicles; one was transported to Carroll Hospital Center. Photos by Bradley Wright.... (Full Story & Photos)

WESTMINSTER HOUSE FIRE

President Richard Zaykoski, June 14

Shortly before 11:30 am Friday morning, Engine 23 and Engine-Tanker 24 responded to assist the Westminster Fire Department and surrounding companies with a working dwelling fire in the 500 block of N. Gorsuch Road. The fire was quickly extinguished by the first arriving crew. An unsuccessful attempt was made to revive an unconscious dog that was removed from the home. Unfortunately, the dog had ... (Full Story & Photos)

FIRE COMPANY TO REPLACE ENGINE 23

Fire Lieutenant Troy Hipsley, June 12

On Monday evening at our monthly company meeting, the company approved the purchase of a new fire engine to replace E-23. Current Engine 23 is a 1995 Seagrave 1,000 gal. tank 1,500 gpm pump. It will be replaced with a 2019 Seagrave custom 'Capitol' pumper. The apparatus replacement committee has worked over a year and a half to design the new engine for Hampstead VFC's current and future needs.
Some ... (Full Story & Photos)


VEHICLE COLLISION WITH RESCUE IN UPPERCO

Firefighter/EMT Isaac Yohn, May 30

On Thursday, May 30th at 5:48 in the evening, Baltimore County alerted Truck 2 for a vehicle collision with rescue at Dover Rd and Byerly Rd. Truck 2 responded with a crew of 5 volunteers. Units from Upperco Volunteer Fire Company were on the scene with one trapped after a tree fell on the car. Once on scene, Truck 2 and Baltimore County Rescue Squad 414 stabilized the car and started extricating ... (Full Story & Photos)

Your feedback is important to us! Feel free to sign the guestbook.
All photographs are the property of the HVFC unless otherwise stated.