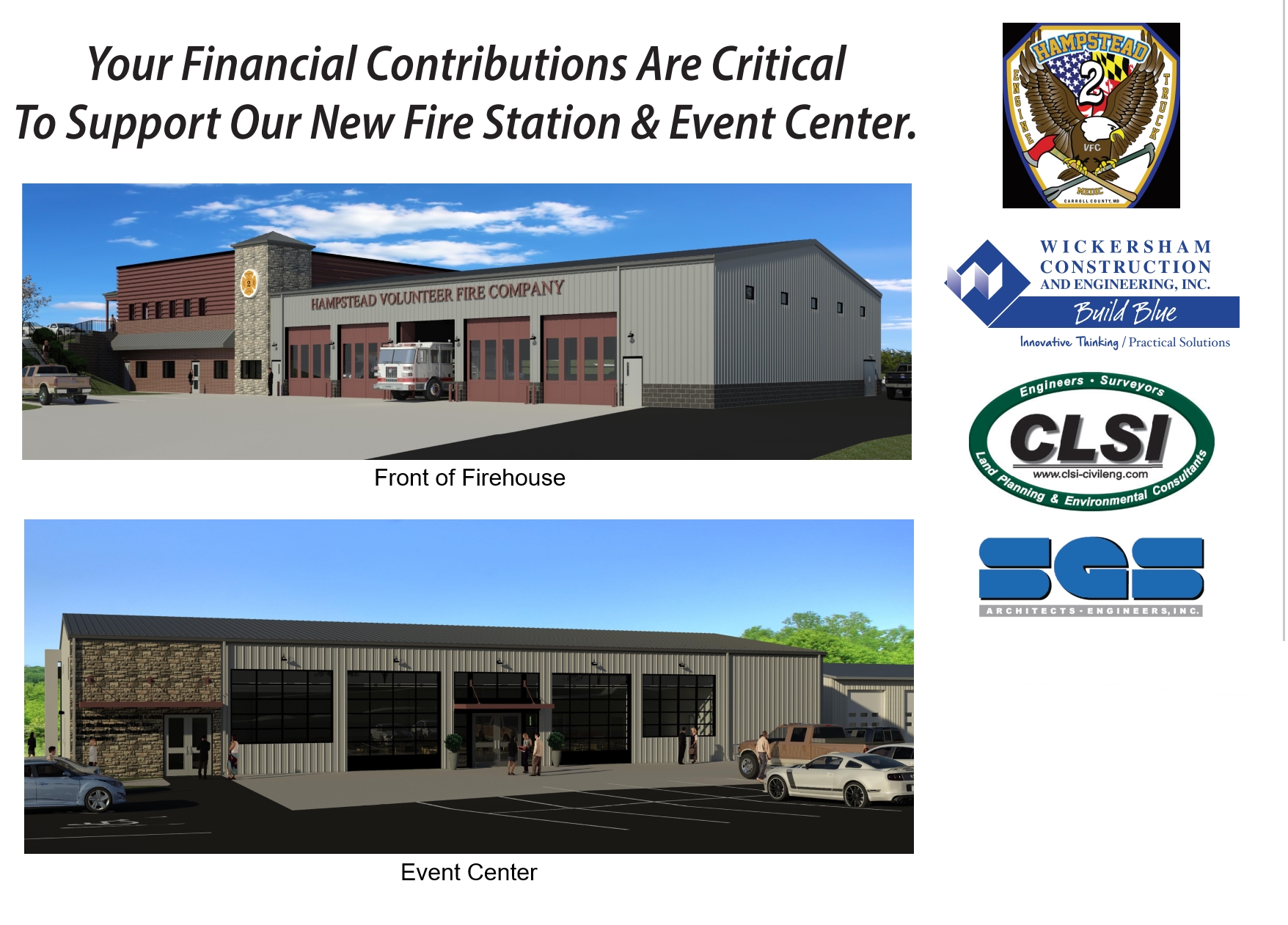 Hampstead Volunteer Fire Department is a 501 (C) 3 non-profit organization serving the Carroll County region in Maryland. We are currently requesting funds to support the construction of our new fire station in order to better serve the residents, businesses, and visitors to our area.

The Fire Department formed in 1900. After a carnival, the community decided to purchase a Hook & Ladder firetruck. It cost $75.00. A year later, the community purchased a fire engine at a cost of $300.00. In 1902, The first firehouse in Hampstead was built. It cost $3,500.00! HVFC secured loans and the volunteers themselves personally guaranteed repayment. In 1947, HVFC put it's first ambulance in service. In 1975, the current HVFC fire house was dedicated. The company has since grown to serve a bustling economic and residential hub of Northeastern Carroll County. Hampstead is seeing a major increase in commercial and residential development. In addition, critical infrastructure such as the Route 30 bypass reside in our first due area. This brings thousands of transient population through our district every day. The HVFC now responds to an average of 1,700 calls of service per year. This is done with a dedicated group of 141 members. The company has 9 pieces of emergency apparatus in its fleet.

In 2016, the leadership began searching for a new home. Since the start of the COVID 19 pandemic, our members have answered the call. They selflessly exposed themselves to help members of the community. 24 hours a day and 7 days a week, our members have responded with bravery and professionalism. Our volunteers responded without any compensation. However, HVFC also suffered a loss of funding. We were unable to hold numerous fundraising events, including our annual carnival.
Reasons we are building are new station.
1. Our station can no longer accommodate 141 members in order to effectively meet the growing demands of our community. We currently only have room for 6 people to stay overnight at the firehouse. That is only enough for one piece of fire apparatus and the ambulance.
2. The need to build an Event Center separate from firefighting operations. This will prevent any safety issues presented when the current hall is being used and an emergency situation arises. It will also prevent disruption to any events being held, due to an emergency. This new Event Center will be modernized and have a higher capacity.
3. Backing apparatus into the station on Main Street creates a hazard for the community and the firefighters. The new building will remain at 1341 N. Main Street. However it will be set further back, with drive through bays. This will prevent unnecessary traffic disruptions and keep our members safe.
4. Firefighting apparatus is now larger to answer the variety of calls and the current station is undersized for the current apparatus and equipment. Hampstead VFC has one of Carroll County's five ladder trucks. When the current firehouse was built, Hampstead did not have Truck 2. The turnout gear consisted of a helmet, coat, and boots. Some members even shared gear. Now it is a full ensemble and industry standards require each member to have their own gear.
We have worked diligently to secure financing for the project. The project is valued at $6.1 million dollars. This is a long way from the original station cost of $3,500.00.

Any donation for our company will help!

Firefighter (Yellow Helmet Donors): $250.00 - 499.99
Lieutenant (Blue Helmet Donors): $500.00 - $999.99
Captain Level (Red Helmet Donors): $1000.00 - $5999.99
Chief Officer Level (White Helmet Donors): $6,000 and above
For more information contact our Capitol Campaign chairperson: capitalcampaign@hampsteadvfd.org