2019 Responses
Fire
EMS
Jan
74
124
Feb
68
103
Mar
65
123
Apr
61
120
May
Jun
Jul
Aug
Sep
Oct
Nov
Dec
Total
268
470
2018 Responses
Fire
EMS
Jan
92
139
Feb
65
115
Mar
78
137
Apr
80
142
May
86
158
Jun
67
144
Jul
70
131
Aug
56
110
Sep
55
104
Oct
53
110
Nov
71
108
Dec
79
139
Total
852
1537
2017 Responses
Fire
EMS
Jan
58
103
Feb
66
110
Mar
74
124
Apr
64
141
May
54
120
Jun
47
105
Jul
81
129
Aug
61
122
Sep
50
115
Oct
67
136
Nov
84
122
Dec
86
127
Total
792
1454
2016 Responses
Fire
EMS
Jan
82
132
Feb
53
105
Mar
55
87
Apr
52
115
May
57
122
Jun
56
107
Jul
54
123
Aug
53
128
Sep
42
109
Oct
83
126
Nov
72
117
Dec
60
126
Total
719
1397
2015 Responses
Fire
EMS
Jan
98
148
Feb
80
100
Mar
71
125
Apr
58
106
May
58
120
Jun
68
111
Jul
66
121
Aug
61
114
Sep
61
120
Oct
72
125
Nov
62
110
Dec
57
110
Total
812
1410
Past Responses
Fire
EMS
2014
752
1288
2013
608
1251
2012
619
1366
2011
627
1250
2010
617
1296
2009
636
1169
2008
695
1192
2007
775
1175
2006
581
1084
Web Counters
Website Visitors
Since
October 30, 2006

Visitors Today
May 21, 2019

The Hampstead Volunteer Fire Company employs full time EMS crews (ALS staffing), as well as one full time engineer supplemented by part time staffing. The EMS crews work a four on, four off swing shift configuration, and the engineer works all day work (Mon. - Fri.).
The fire company is now accepting resumes for: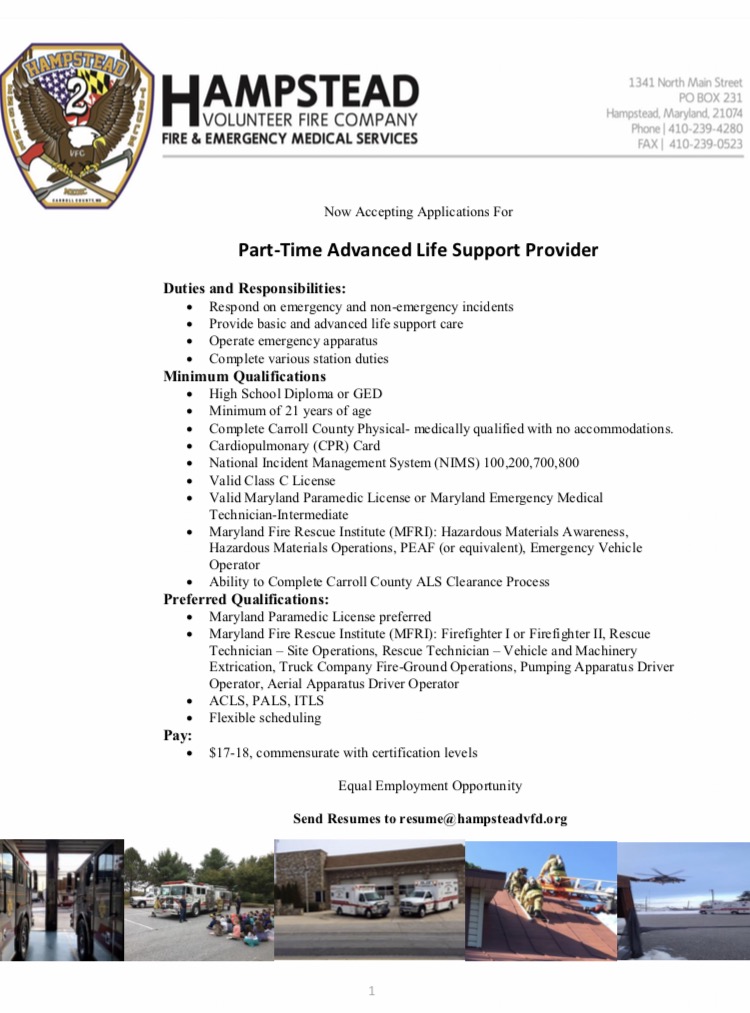 The Hampstead Volunteer Fire Engine & Hose Company No. 1 is an equal opportunity employer.